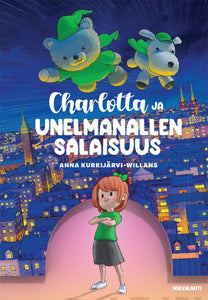 Ideal for 6 to 10 years olds, this magical children's novel about friendship, trust and valuing your precious toys is the first in a brand new series by talented author, Anna Kurkijärvi-Willans. Third-grader Charlotta loves her worn-out stuffed animal Nana more than anything, but one day the class diva Emilia brings the new toy Sunnalle to school, made by her father's toy factory.
Sunnalle is a real dream stuffed animal.  It's made from recycled fur from old stuffed animals, it can be accessorised endlessly, and what's most miraculous is that you fall in love with it immediately. But there's something strange in Sunnalle's sad eyes
When bizarre things start to happen to her Nana, Charlotta must unravel the secrets of the hit toy to save her family from leaving their beloved Helsinki home.